Since yesterday was the hottest day so far this summer (with a heat index of 104 and it's only June!) I thought it would be a good day to head over to the air conditioned Met and see the
Alexander McQueen exhibit
. I've always liked McQueen's work, and figured it would be interesting to see in person. Even though it was a weekday afternoon there was a 30 minute line which wasn't fun, but wasn't particularly awful either.
Once inside, it was quite possibly one of the most beautiful things I've ever seen. The shapes, textures and detailing were all stunning in person, and so much more amazing than I could ever imagine from a photograph. I ended up spending over an hour looking at everything as closely as I could, despite the fact that it was super crowded and I hate crowds. I was a bit disappointed that no photographing was allowed, but in hindsight having everyone clamoring to take pictures would have distracted from the experience so it's probably for the better. It's on display until August, so I may even try to go back and see it again.
VOSS, spring/summer 2001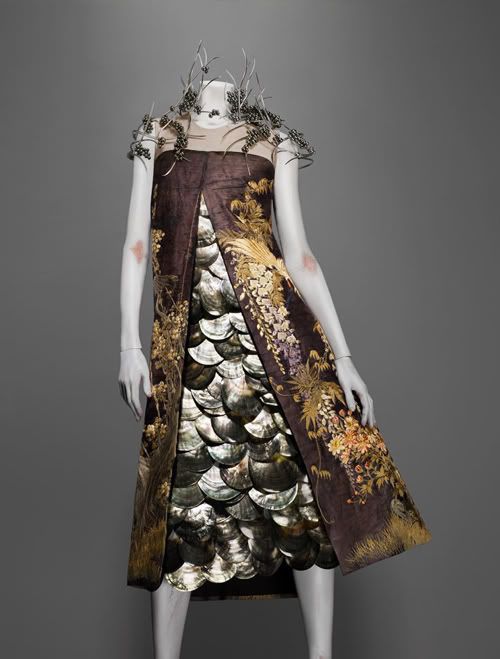 This was my favorite dress there, the colors, depth and weight of the shell underdress was breathtaking.
No. 13, spring/summer 1999
I loved the contrast of the molded leather with the delicate lace, and the prosthetic legs are lovely.
It's Only a Game, spring/summer 2005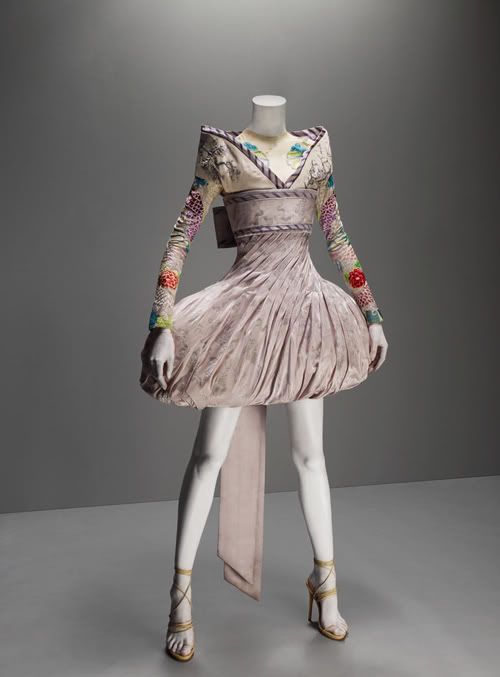 Loved the colors and textures here, it was on a spinning pedastal in a mirrored room which was both hypnotizing and gave an amazing view of all sides.
Unfortunately, a lot of the ensembles I loved aren't pictured on the website but I suppose that's all the more reason to go see it in person.