I finally made it out to some tag sales for the first time this summer! It's been busy with both work and personal things taking up a lot of my time lately so I've been sleeping in often, but I managed to get up at a reasonable hour on Saturday and saw there were a few interesting tag sale listings. I'll probably do more thorough posts on individual things later, but here's a couple of my favorites.

I almost didn't go to this tag sale since it was pretty far away, but after the first one (where I got some worthwhile but not exciting stuff like high quality fake flowers and a couple of books and purses) I was having a nice time out driving and listening to music so I decided to go for it. Turned out to be a tag sale at an antique shop that had the best stuff. I mostly got things from the tag sale tables, but did end up picking up some stuff inside too. I'm thrilled with the late-teen's era sewing pattern which is not only my size - a rarity for me and vintage patterns - but also for something I'd wear. The camera was a non-tag sale purchase and a bit more than I'd normally spend while thrifting, but I just received a bit of money from my parents for my birthday so I decided to go for it.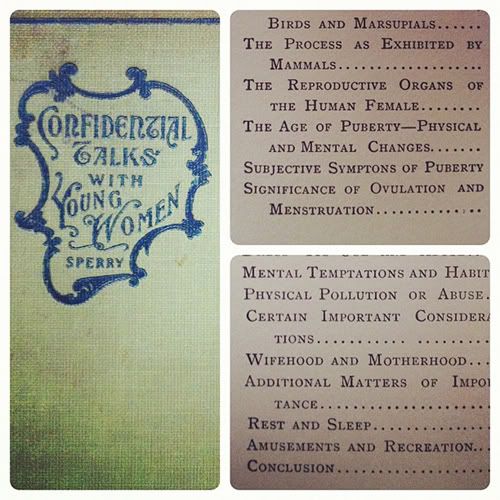 I also picked up this fantastic book, an educational book for girls covering puberty and transitioning to adulthood. It's dated 1898, so I'm expecting to learn a bunch of new euphemisms for lady issues and I'm definitely planning on posting excerpts here.