I'd been meaning to start the year off with a post about goals and such but instead I've been waylaid by
one of the maladies
going around NYC (quite possibly the flu), and it's been a total motivation killer.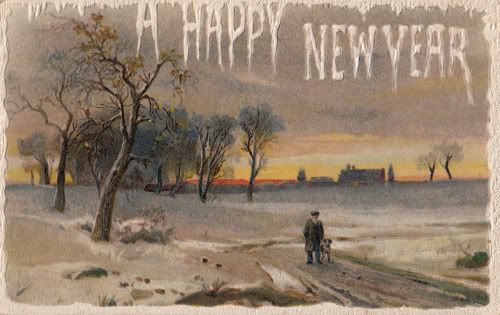 lazily re-using last year's postcard image!
I'm not that into New Year's Resolutions themselves as I view self-improvement as an ongoing project, but I do easily get stuck in a routine which can be good or bad depending on what it is. So the holidays always end up being a good time for me to try to make some changes since the time-off from work, family activities, etc all end up breaking me out whatever rut I'm in and make it much easier.
Things for this year:
✦ Take more photographs. I realized I haven't used any of my cameras since September, which is sad
✦ Sew different things. I've been sewing fairly regularly, but the last several things I've made have all been from the same two or three patterns. I have a lot of patterns and pattern books, so there's no need for all my clothes to look the same.
✦ Finish organizing my room. I have a side room that's basically my sewing/craft room that I can decorate however I want, so far I set it up enough to be usable but not enough to make it my dream space that it should (and can) be. Step one is buy a loveseat, chaise lounge or something similar.
✦ Learn to crochet. I have my great-grandmother's antique crochet hooks and bought a book last year and then never got around to it.
✦ Watch more movies and TV. I don't actually watch a lot of TV or movies, but I enjoy them quite a bit and I'm even behind on the ones I do watch (still need to finish Downton Abbey season two). I have trouble making myself just sit down and watch something, since I always feel like I need to be doing something more active, but I need to slow down some and appreciate things more.
✦ Start doing yoga at home. I love going to yoga classes and do so once a week, but more yoga will be good for me and for some reason I just never manage to do it at home, even though it can (and should) be easier than trying to go to more classes.
✦ Update this blog! Seriously, what happened in September? It seems like that's when I quit doing stuff and I can't think of anything that stands out as to why. I also changed the name, as I had been tired of the old one for a while and made it a goal to have a new one for New Year's. I do still need to change up the layout a bit to match, though (I've even still got the old header image up since I haven't made a new one yet).
✦ Start posting some outfits here, maybe? I like style and fashion quite a bit and enjoy putting together outfits every morning but I'm definitely camera shy, even when I'm the one with a camera. Out of this whole list, this will be the one that's least likely to happen.
So written out it's a pretty long list, but except for the last one it's all either things I have done in the past or things that I'm already doing and just need to do more. I may have to prioritize some since there is a lot, but it all seems reasonable.